Watercolor Portrait of Port Matilda, Pennsylvania Home
Follow me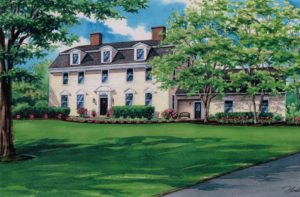 This was such a beautiful traditional home and landscape to portray!
Completed on January 28, this 11″x 18″ watercolor depicts a large frame home in Port Matilda, Pennsylvania that was commissioned by the homeowners because the family will be relocating soon and they wished to have an artwork keepsake of their residence. This is the third custom house portrait I've provided for this upwardly mobile family, and I hope it brings many fond memories!
On an interesting side note, this home in Port Matilda was built in the mid 1980's, and closely modeled after a historic home in Portsmouth, New Hampshire built in 1758 now known as the John Paul Jones House. Jones was the famous naval hero of the American Revolution and rented a room there in 1777 and again in 1781 when it was a boarding house. The building is now a museum and more information can be found at https://www.portsmouthnh.com/listing/john-paul-jones-house/
I hope my client's family is proud to have lived in a a home designed to look very similar to one connected to a famous American patriot!
Share This