Now Taking House Portrait Orders for Christmas 2020
Follow me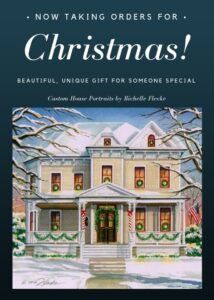 Today may only be October 1st, but if you wish to give a house portrait for a Christmas gift, NOW is the time to order! A custom house portrait makes a unique and heartfelt gift for family and friends any time of the year — especially at Christmas! Whether a home is grand, medium, or small, I will capture all that is special about it in whichever season you wish so the portrait will be cherished this holiday and many more to come! I offer several size and price options for both watercolor paintings and pen and ink portraits — view them here
**** ORDERING IS EASY! ****
1) Call me to discuss your needs, 314-892-9221 or send me a message
2) Send your photo(s) and 50% deposit payment.
3) When the portrait is complete, the digital image will be sent for your approval, the remaining half payment will be due, and arrangements made for artwork pickup or shipping to you.
My holiday portrait schedule fills fast every year, so order now to ensure a spot!
Thank you for your interest — I hope to work with you to create a beautiful piece of original artwork you will be very proud to give your loved one.
GIFT CERTIFICATES AVAILABLE
Share This