Watercolor Portrait of The Treehouse Spa
Follow me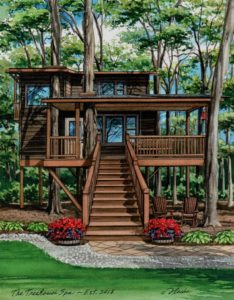 What a perfect location for a spa!
On December 21, the finishing touches were put on this final house portrait of the year — an 11″ x 14″ watercolor painting of a truly unique, 2 -story wooden shingle property in O'Fallon, Missouri that will be the location of The Treehouse Spa. The building actually incorporates the large trees for structural support, hence the name! The owner, David Stuehmeyer, a licensed massage therapist, will be opening his business in a few weeks offering therapeutic massages in this tranquil, wooded setting surrounded by the beauty of nature — it's such an ideal place! His clients are sure to have a relaxing and wonderful experience– sign me up! A very thoughtful lady friend of David's commissioned the artwork in anticipation of him opening his business soon, and I hope he will be excited to display it in his treehouse office!
Best wishes to David as he embarks on what I trust will be a very successful business!
Share This