Watercolor of Family's Home in Winter Scene
Follow me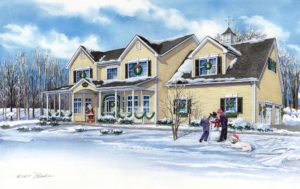 This is the first house portrait of 2018 — won't this be a wonderful and meaningful gift!
This 15″ x 24″ picturesque watercolor portrays a family's lovely home in Jefferson, Pennsylvania in festive holiday decor amid the winter snow. The artwork was commissioned by a husband for his wife, and includes their two children happily building a snowman while their beloved dog contently looks on. What a sweet memory to capture for the mother! She is sure to be very touched by her husband's thoughtfulness, and the artwork should delight their children too when they see themselves decorating the snowman and Santa standing on the front porch!
To make it even more special, the image of this custom house portrait will be reproduced for the family's Christmas greeting cards next year, and 8.5″x 11″ archival giclee prints are now being made for the family members as a keepsake. If this idea appeals to you, I will be happy to create the original artwork and have the keepsake prints made for your loved ones too. Call me at (314) 892-9221 and I will be happy to hear your wishes and provide a meaningful portrait for you to treasure for many years to come.
Share This