Now Taking House Portrait Orders for Christmas 2017
Follow me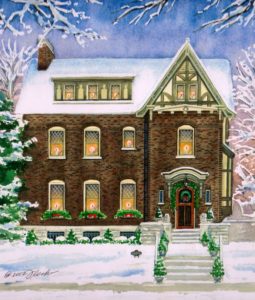 **A HOUSE PORTRAIT MAKES A UNIQUE AND HEARTFELT GIFT FOR FAMILY AND FRIENDS ANYTIME OF THE YEAR, ESPECIALLY AT CHRISTMAS ! **
October 1st, may seem a bit early to think about the holidays, but it's actually the perfect time to order a custom house portrait! Each portrait takes several days to complete, and there are a limited number of weeks from now until Christmas. Every year my schedule fills fast, so it's best to order now to ensure a spot on my calendar!
ORDERING IS EASY!
1.) Call me to discuss your needs and have your questions answered, 314-892-9221. I offer several size and price options for Watercolor and also Pen and Ink home portraits, and once you decide, all that is needed to reserve a spot on my schedule is a deposit of 50% of the portrait price. Here is the link to my Pricing page to view your options: https://customhouseportraits.com/ordering/pricing/
2.) You may email or snail mail photos of the home including the view you like best and close-up shots you think would be helpful. ( Or, if the property is in the St. Louis area, I can take the photos. ) Here is the link with helpful Photo Tips: https://customhouseportraits.com/ordering/photo-tips/
3.) When your portrait is complete, I will email the digital image for your approval and then your remaining balance will be due. Local St. Louis, Missouri clients may pick up their portrait and out-of-town orders will be shipped via USPS Priority mail at no additional cost.
Whether portrayed in the Winter, Spring, Summer or Fall season, and the size is grand, medium or small, the home will be portrayed with the utmost care and attention to detail so that it will become a cherished addition to a home this Christmas and for many years to come!
Thank you for your interest — I look forward to working with you to create a beautiful piece of original artwork you will be so proud to give to your loved one! Gift Certificates are available.
Share This